Newsletter: December 2022
Newsletter: December 2022
By: Elemental Fitness Ltd Newsletter, health and fitness, onlinepersonaltraining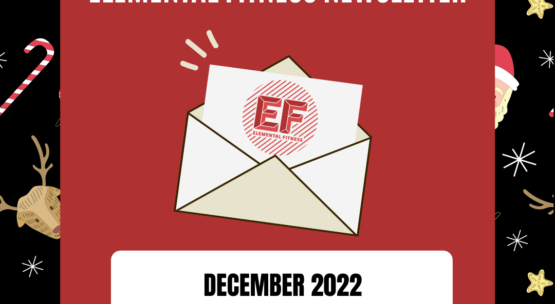 "Christmas time, sumo-squats and line(work)
Children shouting KIAI!
With jogs on the spot and lifts for P.B's
A time to rejoice in the goals that we achieve"
Merry X-Mas Everyone - Let's get to it
Christmas Closure: Elemental Fitness and the Elemental Kickboxing Academy will be closed 23/12/2022 to 02/01/2023 and reopen on 03/01/2023
Have a great Christmas and see you in the New Year!

The team recently had a 1.5-hour kickboxing-based session with Leeds City College students as part of their course to becoming personal trainers.
The college were introducing alternative ways of training to their students to broaden their horizons, and chose Elemental Fitness based on its approach to effective training and background in Martial Arts. The session introduced them to the basics of kickboxing and involved mobility work, line work and high intensity pad work.
The group left satisfied with a more expansive understanding of an alternative approach to training clients.
Our Teemill store is now up and running. For those that remember a few newsletters back, we started to put an online store into the works for selling our club uniform and a few extras.
Along with club attire, we also have a few snazzy designs and casual wear to choose from.
Over time we hope to expand this service and include even more designs and styles.


To learn more head over to our store.
The team recently went to the World's Strongest Nation event over the last weekend in November. Set at the M&S Arena in Liverpool, the evening was a blast and saw 8 competitors from the UK and US battle out for the title.
What amazed the guys was the two teams were a mix of both women and men in the same tests of strength. Most notable, was American Gabi Dixon getting 2nd place in the Hercules hold behind the might of Mark Felix the current record holder of that event.
The lads then went to enjoy the night life of Liverpool – another story for another time.
Here is a list of interesting reads we think you may enjoy.
An updated blog on what a kickboxers diet consists of.
Success stories from the clients of Elemental Fitness:
-Rich