Personal Training Leeds
Your First Session (Induction)
Our personal training induction has been specially designed to start you off at the right level by finding out your personal goals and fitness ambitions. We have detailed below some of the key areas we will cover at your induction but it is important to mention, not all aspects of our induction are mandatory, if you would prefer to have a more active induction this can be arranged.
Upon booking your induction you will receive a confirmation email within 24 hours confirming the time and date alongside any information we feel may be relevant to you at that time such as further information we may require you to bring to your session and our current COVID procedures.
When arriving at our facility you will need to ring the door bell to gain entry. A personal trainer will let you in, provide you with a welcome pack and give you a short tour for the facilities.
You will also be asked to take a seat and complete our enrolment forms to ensure we gather any important contact and medical information before we begin, alongside a physical activity questionnaire (PARQ) to reduce the risk of you injuring yourself when participating in exercise if you are not ready to.
Please note this is a mandatory requirement before participating in exercise and for the safety of all our clients.
If your personal trainer hasn't already already introduced themselves, your trainer will come over and greet you when your session is due to start and collect the relevant forms.
At the start of your session your personal trainer will begin with a consultation and gather more specific information about why you would like to start personal training, as with all consultations you may feel certain elements are not relevant to you but the more information your provide us, the more accurate a programme we will be able to put together for you. Examples of what we cover are agreeing on specific, measurable, attainable, realistic and timely targets (SMART goals) to ensure we can deliver what you have come for. We will discuss your physical training history, check availability, exercise likes and dislikes, other lifestyle factors such as diet and drinking habits, and barriers which may impact or prevent you from attending your sessions (for example injuries and motivation)
The next step to your induction would be the personal trainer taking your measurements. A daunting yet insightful process for many of our members. We offer a wide range of measurements, some favour to cover everything, whilst others may choose only key details. Some choose to sit down and discuss their results in detail, whilst others prefer the personal trainer to keep a track on their own. Whichever option you choose is entirely up to you however we encourage all our clients to enter the arrangement with their eyes wide open, the more information you can gather about yourself the more you will learn how to change these measurements, whatever they may be. With this information your personal trainer will discuss what we can do to help in areas of weakness and how we can use areas of strength to help you reach your goals.
Examples of what we can gather are height, weight, body composition, physical circumferences, blood pressure, resting heart rate, grip strength, peak flow, waist hip ratio and arrange your first review date.
All the information we collect will be inputted onto your own online dashboard which can be accessed via our client log in area of our website via desk, tablet or phone. Your account will be set up within 24 hours of your induction.
Please note this aspect of the induction can be repeated every 6 weeks as standard to any changes, however we can repeat it more or less often if you like.
Workout (face to face only)
Upon completion of your measurements (subject to time) your personal trainer will use the remainder of your first session to complete a fitness test they feel is specific to your goals. Alternatively they will ask you to participate in a work out of your choice, such as an introduction into kickboxing or weight training. If time inhibits this, your personal trainer will use the information they have collected from your induction and start to write up your programme including any fitness tests in time for your next session.
Please note this aspect of the induction can be repeated every 6 weeks as standard to monitor any changes, however we can repeat it more often or less if you like.
Upon completion of your induction your trainer will ask you if you have any further questions that may have been left unanswered.
Assuming you are happy with your induction and decide to continue, your personal trainer will be able to run through the different payment and membership options available.
Popular Face to Face Personal Training Options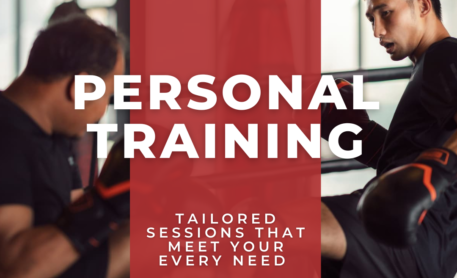 Book your first session today
Book your personal training induction receive 20% off and a free 6-week dumbbell program. No strings, no commitment, just great training.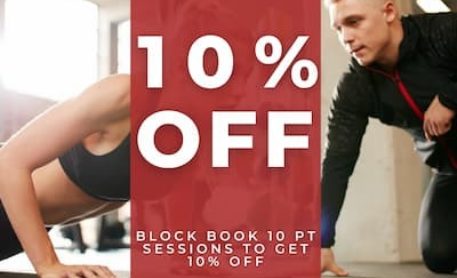 10% off 10 Personal Training Sessions
Book 10 personal training sessions and receive 10% of your bill!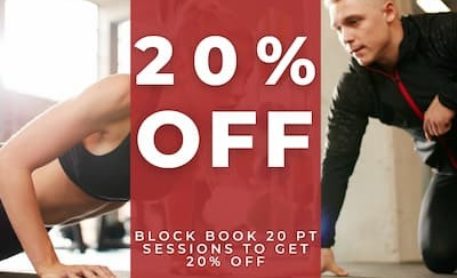 20% off 20 Personal Training Sessions
Book 20 personal training sessions and receive 20% off!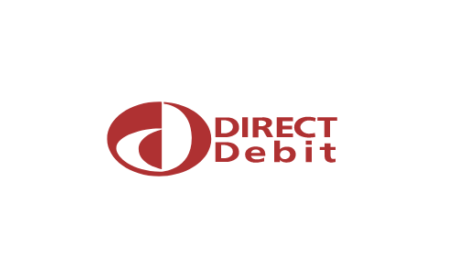 Up to 20% off Monthly Membership
Receive up to 20% off your personal training sessions when paying by direct debit!