Shop Small (Train Small)
By: Elemental Fitness Ltd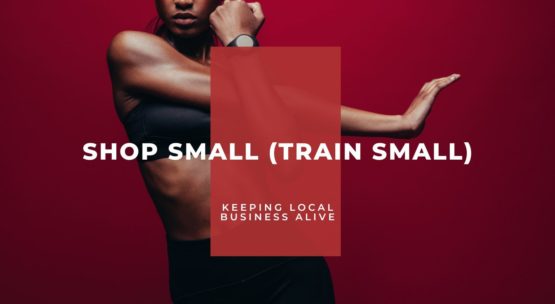 Back in 2010, midst the recession, American Express started the Small Business Saturday1 on the Saturday after Thanksgiving.
Encouraging those to assist with shifting their spending habits towards the local, independently owned businesses.
More recently with the covid pandemic, Russo-Ukrainian War, energy/economic crisis and much more, many, not just small businesses, are counting the pennies to budget for the future. This means luxuries are on the back burner as more important needs are placed forefront. Having said this, many realise joining a gym, hiring a personal trainer, or participating in exercise classes are needed. This will not only improve physical health, but to take us away from the trials and tribulations we all face in daily life2.
The largest impact on local gyms has been the pandemic3. Elemental Fitness was closed for 8-months over this period, we came out the other side with support from the team and members/clients with a rejuvenated purpose. We understood the fragility small businesses are under during seismic global events. We started to push for a more accessible platform for clients to achieve their goals, we invested in online training, a booking system and calendar to assist with the EKA classes and much more.
We opened our services to run remote training sessions, as many of our clients are members of local larger gyms, we figured it was time for us to adopt this service also, and decided to open Elemental Fitness for gym access. This helped streamline all our services. All these additional services were added to increase the impact Elemental fitness could have on people's lives, first around Leeds and West Yorkshire then, with online, farther afield.
Being a small business with a small team, we took on roles that other larger companies will have entire teams and budgets for. This level of commitment can undoubtedly place pressure on a small team, multitasking to keep things moving smoothly – this is where the consumer comes in and the idea of shop small.
Shop Small/Local isn't another pseudo movement to add to the list of countless others. The importance of this culture is one that improves the lives of many. Introducing variety and preventing a monopoly on fitness and wellbeing services. It invokes solidarity of the community, making a name for the small shops and local businesses to compete against larger corporate industry giants.
The largest impact of shopping small and local is on the individual/teams of the business. Realising their potential as someone whose product or service is wanted, sometimes, needed by others makes it worth it. We personally enjoy that feeling, our expertise is sought after, making a living out of it is almost a bonus.
Purchasing a 6-week routine for £11.99 might not give us the funds to pay a personal trainer. The maintenance on a treadmill or fancy amenities for clientele. What it does is start a reaction, it goes towards these things, it helps realise the services that are required by the client. You now multiply that by a fraction of those that hear of us, walk through our doors, do weekly classes, now we're paying a hard-working personal trainer their monthly wage. We are putting money down for a new equipment. It even goes towards a coffee machine for the parents that come to spectate their kids in class.
In the end we rely on you, the clients/members/new customers to show your support to Elemental Fitness. You, who have the power to keep independently owned businesses open. What we can do is see the current situation we are all in and offer services and our expertise for a price that is reasonable and expected.
Not to place pressure on the consumer, but a little goes a long way. We don't want to offer thousands of nonsensical programmes for cheap. Instead, we offer affordable assistance when it comes to personal training. Simple effective routines, where the money goes back into the business of the locals, those that trained/studied/worked hard themselves to open a business that offers the consumer something valuable.
If you would like to support us, you can visit our storefront and see if we have anything that will help you with personal training. If nothing takes your fancy, head to our social platforms; Elemental Fitness Facebook, The EKA Leeds Facebook and our Instagram. Leaving a comment, giving us a like, perhaps sharing a post. Even these acts are valuable to us and can make a huge difference, we appreciate all those that come through our doors and support our cause.
Regards,
The Elemental Fitness Team