Newsletter: March 2022
By: Elemental Fitness Ltd personal training, elementalfitness, healthandfitness, Newsletter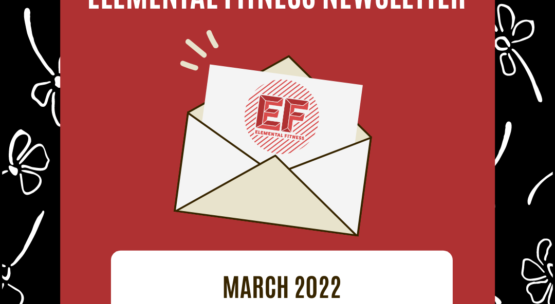 Did anyone notice the smell of paint in the air? Or David in his paint overalls? Or Ryan's hands covered in paint. Yeah, the team were painting away in the corridor, only took them 12 hours in total to get 90% of the work done (only the skirting boards and detailing left) all whilst doing their normal jobs – that's commitment.
Let's see what else the team have been up to.
More services arrive at Elemental Fitness in the form of James recent qualification as a level 4 Lower Back Pain Specialist. James completed this last year however only received formal acknowledgement and his certificate due to backlogs.

He mentions that nearly 85% of the population suffer with some form of pain, whether that be non-specific, root-nerve to specific trauma and realises from his personal experience and working with clients over the years that many go about their life not really trying to improve until it's too late.
If, like many, you have issues James is available for 1 on 1 sessions to help programme effective workouts and lifestyle changes to see the back end of you back pain. To find out more speak with him direct when your next in or email [email protected] to book a session
Elemental Fitness Challenge
Another quiet leader board this month. Not to worry, March will be the one to test your might.
Keeping things simple the plan is to work your arms with a diamond press up – however instead of just doing one point per repetition you need to do 5 (full reps mind you). Your session will be a standard routine and anytime you wish to get points a 3-minute timer will start, once done you have to have a rest for a least 1-minute before a second attempt.
Spend the entire session doing that if you really wish or spread it across your normal session it's up to you.
New events have been added to the calendar under the Elemental Fitness Gym Access. These slots are for those wanting to have use of the facilities outside of their classes or PT sessions.
Increasing your frequency of training is a sure-fire way of building better results in a shorter term. You get unlimited access to the facilities with the booking system choosing which hourly slot you would like to come down and train and it doesn't have to be just an hour. If you want a quick 30-minute blast or get ion the grove and go a full 2 hours this is fine too.
To get involved please speak with one of the Elemental Fitness Team or email [email protected]
Some great results from two of Danielle's clients this month. Both Lara and Jenna have achieved more than they thought was possible.
First of Lara has conquered the plyometrics box. Starting only a few weeks back with the small stepper (around 8 inches high) doing a simple two footed jump she steadily increased each week to make it to the full box. It would be fair to say Lara (not necessarily afraid of heights) was cautious when it came to the first box at 18 inches. No more than a few sessions later she mastered the full 20 inches. Well done.

Dropping that Christmas weight can take time, but in less than 2 months Jenna was in a better position than she was before Christmas. Its not uncommon for one measurement to be good and a few others not so good, it takes time to hit these goals – but Jenna has smashed all of them from her weight to body fat percentage and circumference measurements. Well done.

Elemental Fitness team member Charlotte has started up in another role as a clinical support worker on the children's cardiac ward with the NHS. She hasn't stopped working with us and splits her time between her role with the children ward ourselves helping with behind-the-scenes tasks (want to know more check this blog about Charlotte).
Charlotte tells us that her role involves working on the ward alongside the doctors and nurses to provide care and support for the patients and families in the best way possible, completing daily responsibilities such as making sure their observations are stable, they're comfortable and ultimately give them company whilst in hospital.
Charlotte's noble work is helping many and she hopes to make kids lives better on the ward and eventually build on a career in nursing.
To coincide with James' recent pass on his lower back pain specialist qualification here is little blog on how low back pain can affect a person's life from physiological pain to psychological issues.