Meet our new Digital Marketing Assistant Charlotte
Personal Training in Leeds is going digital!
By: Elemental Fitness Ltd elementalfitness, personaltrainingleeds, onlinepersonaltraining, elementalkickboxingleeds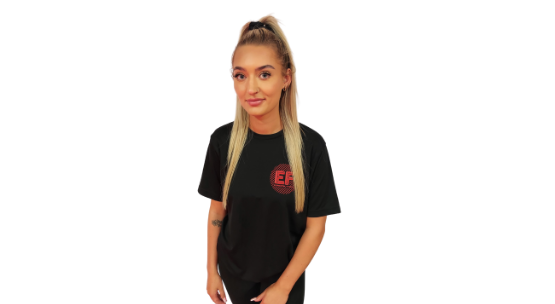 We'd like to welcome Charlotte, our newest member of the team to Elemental Fitness Ltd.
Charlotte will be managing the digital marketing side of the business, such as our social media accounts, website, mailing lists and google. We're excited to see what consistency she brings to our platforms alongside showcasing member success!
Find out more about Charlotte below
WHAT QUALIFICATIONS/EXPERIENCE DO YOU HAVE?
I went to sixth form and completed my A-Levels in photography and media which then led me on to complete a BA Hons degree in Fashion Photography at Leeds Arts University. My passion for photography, the fashion industry and marketing allowed me to graduate with a great degree.
Towards the end of my final year at university I did an internship in social media marketing to begin to get an understanding of what I wanted to do once graduating, this internship made me realise that this is the career I want.
WHAT MADE YOU WANT TO BE A DIGITAL MARKETING ASSISTANT?
I have always been passionate about social media on my own personal platforms as I love being able to follow my friends and see what they are posting as well as keeping up to date with big brands and influencers/celebrities. I went through my teens as social media was getting huge and allowing people to have careers out of it, as I watched this all happen, I feel very comfortable in this industry. I find social media so interesting and fun as it has grown so much to allow brands to promote their business and product so much more through the use of Instagram and having influencers on board.
After completing my internship in social media, I knew this was the career path I wanted to go down as I find it so enjoyable and fun to do and I've always known a need a career that I thoroughly enjoy to allow myself to push myself as much as I can. I'm a creative person and this role allows me to project this into my work.
WHAT IS YOUR FAVOURITE PLATFORM?
My favourite platform for marketing is Instagram for multiple reasons. A wide audience of people use Instagram meaning it is easy for a brand or business to reach out to their particular target audience and get more people involved. The ways a business can create, and post content is endless, from graphics to live photos and reels which can make your account really stand out and gain a lot of attention if created properly. When it comes to engagement Instagram is great for this thanks to the comment section and stories.
DO YOU ENJOY EXERCISE/SPORT?
Yes, I do enjoy exercise and keep myself fit to stay healthy. I have a dog so am always on a dog walk as well as enjoying at home workouts too.
WHAT IS YOUR FAVOURITE EXERCISE?
My favourite exercise would be a simple ab workout as I find this is what pushes me the most and what I enjoy.
WHAT I LIKE TO DO AWAY FROM WORK?
Away from work I'm very sociable and love to be out with my friends for food and cocktails. As well as this I love everything fashion and beauty but also long days out with my dog in nature.