Newsletter: September 2022
Newsletter: September 2022
By: Elemental Fitness Ltd healthandfitness, Newsletter, personaltrainingleeds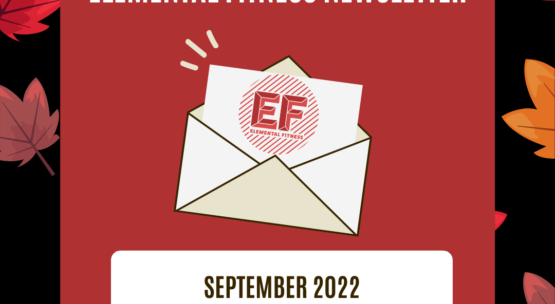 Welcome, grading dates in the calendar, an event for members and clients to let their hair down and the usual chat about everything Elemental Fitness and the EKA.
Let's get to it!
Personal Training

Gym updates have slowed down now, no more painting (for the time being). We have seen an increase in the gym use membership, seeing all of you guys make use of the facilities and upping your training is amazing, to rephrase a quote from Jaws "We're gonna need a bigger gym!"
Beyond facility updates and an increase in members using said facilities, August was nice and calm due to many of you on your holidays sunning it up – we hope those months of dedication in the gym paid off and you got that beach body you have been working towards!
Elemental Fitness Challenge
A quiet month in August as many were having the time of their lives being on their summer holidays. No worries we can make it back with some crazy intense challenges for September. Dubbed the "back to school" challenge, clients will be tasked with all the fun exercises we remember from P.E back in the day, or at least 1960s America, which is what we have based ours on.
Check the leaderboard here.
Did you know you can get special access to the gym facilities for only £21.60 a month as a member? Book into any slot on the MyPTHub app between Elemental Fitness' opening hours and workout out to your heart's content. Make use of the bags, machines, free weights treadmill, whatever you want.
To assist you with your training you'll also receive a 6-week programme to get used to making the most out of the dumbbells with a full-body workout! If you're interested let us know by emailing [email protected] or speaking to an instructor.
This month's shout-out goes to Fiona Kirkwood. Her personal trainer James has seen a great improvement in her approach to health and fitness. Months ago, she would shy away from her weight, and it would become a subject she would rather stray away from and not tackle head-on.
Now she has full control over this aspect of her life, being comfortable with her weight and understanding the ups and downs has allowed her to make a more efficient choice over food and exercise. Because of this she has dropped pounds and body fat all whilst keeping (sometimes increasing) muscle mass – a difficult thing to do for many.
This isn't even touching upon issues with her lower back, which has all but disappeared. Well done Fiona, you are smashing it, keep it up and great things will continue to follow.
As mentioned in the previous newsletter, Stu is now a full-time member of Elemental Fitness, yay! (as of 12.09.2022 - but we really couldn't help but celebrate right now)
This has little impact on clientele but means we as a company can start to push services and advancements within the business. We hope to see some great growth from Stu and having his background in martial arts and passion for fitness will certainly make him a well-sought-after trainer.
If you would like to book some sessions with Stu in person you can do here. To learn more about Stu here is a blog introducing him to when he initially started with Elemental Fitness.
Free 5-Week Boxing Programme when you sign up to the Elemental Kickboxing Academy First Four Classes for £15.00 offer.
Offer runs 01.09.22 – 30.09.22 T's & C's Apply
An updated blog from way back in 2017, here is an interesting read on 4 areas of strength training that can benefit a kickboxer's ability. Free content to get you started then if you wish to know more book a session with us here.