Newsletter: October 2022
By: Elemental Fitness Ltd personaltrainingleeds, onlinepersonaltraining, Newsletter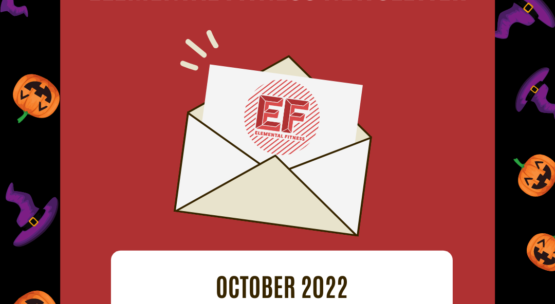 It is apparent that we are now on the path to winter with the gym heaters now back into action. Don't worry though your instructors and trainers have a solution to assist you with warming up – a little tip they have picked up called exercise!
This way of keeping warm has also proven to help with building muscle, improving fitness, and burning fat!
Let's get to it!
Word on the metaphorical street (or the actual street outside the gym, as this is where some of the conversations have happened), Elemental Fitness will be renovating its look. Not just getting the paint jobs done, something more.
We can't stress enough that this is still early days, but the building will have a full front entrance (roughly where the climbing wall is currently). This is a game changer for us. The number of times people, who live across the road, tell us how they never had the foggiest that we existed. What did they think with all our members going into this small unassuming door, then coming out looking dishevelled… hmm makes sense for them to question what was happening.
However, not anymore – people will be able to see inside and watch how we become a sweaty mess after an hour.
Two things for everything online with EF. First off, we have updated our website to have a more in-depth bio of our trainers. What they specialise in, their qualifications what's their preferred way of loo roll placement, front or back…perhaps not that last one.
Secondly, we have started to build on our branded apparel a little with an online shop. Joining forces with a company called Teemill. These guys are a sustainable option for our club uniform as well as opening the possibility for more casual wear – fancy.
Expect the site to be up and running soon and you can start to outfit your wardrobe with Elemental Fitness branded gear.
Not an individual shoutout this month, but instead a new contract Elemental Fitness has with Summerfield Primary and Calverley C of E. Teaching kickboxing lessons at schools is not a new thing for us. We have done it for many years. Unfortunately, covid put a stop to that but we are now back on it.
We have a few more in the pipeline as well as talks with other groups/communities that wish to have a regular kickboxing/group training session with us.
If you would like to put forward any, please contact us at [email protected]. This can be a school, business or even a local sports team that wishes to use our services for supplement training in a group setting.
Stu has recently passed a kettlebell course. Here is a little from him and why he loves kettlebells so much.
Having been interested in Kettlebells and using them in my own workouts for several years now, I am pleased to have finally qualified as a certified instructor in September and look forward to implementing more of these versatile pieces of equipment in client's programmes.
Kettlebells are great for improving overall fitness, conditioning, and mobility with many of the movement patterns and techniques mimicking essential everyday movements. They're also great fun to swing around!
Kettlebells also have a myriad of benefits that carry over to martial arts training including functional movement, cardiovascular conditioning, core strength and stability, explosive power and hip strength to name a few.
Look out for my upcoming Kettlebells blog on the EF website.
Get 15% off any of our online/remote training programme packages with code EFOFF15
Discounts do not include any packages that contain face-to-face sessions at Elemental Fitness or Kickboxing Classes at the EKA
Offer Runs 01.10.2022 – 31.10.2022 T's & C's Apply