Newsletter: February 2022
Newsletter: February 2022
By: Elemental Fitness Ltd personal training, elementalfitness, healthandfitness, Newsletter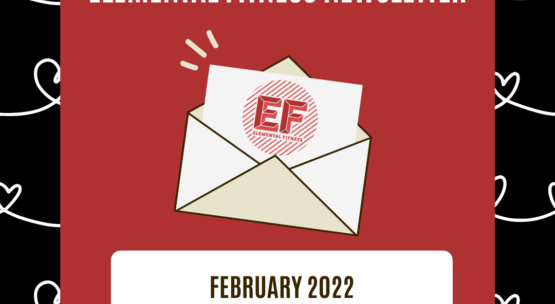 Elemental Fitness has been on TV! Did anyone catch it? Yes, we are famous, but don't worry we'll never forget about our roots and those that stuck by us along the way…
Other than appearing on literally hundreds of thousands of TVs across the nation we are our usual busy selves making the dream work with organizing gradings – including black belt, promoting the remote training services and, keeping you guys motivated throughout 2022.
Since appearing on national television, oh…you didn't know? Well, yeah we're kind of famous now – well the Elemental Fitness facility is, but more on that in a moment.
You may have noticed the wall graphics up on the wall, well they are completed now meaning we are officially into the next phase of the gym makeover. We are unsure what step will be taken first but (in no official order) we plan to spruce the corridor, toilets, and benches area next.
This may have already begun by the time you read this, so you may already have seen the EF team in their overalls sanding and painting away, oh the joys of home improvements.
Elemental Fitness Challenge
Jan Challenge was quiet, most likely due to everyone recovering from the full belated Christmas of 2020 and trying to put the last few years behind us, many have gone for their own challenge by the sounds of it with many clients reporting their attempts at 'Dry January'.
Well, we don't want to overwork you with two challenges so now that's out of the way lets focus on the Elemental Fitness February Challenge. Feb's challenge is all about pulling power – fitting for the month that has valentine's day in it *wink* *wink* *nudge* *nudge*. Before you think we've gone the way of Erik Von Markovik or a bit of light reading from Neil Strauss, this pulling power is related to your back and biceps, so expect to get a pump (that's enough now) from this challenge.
Elemental Fitness mobile site has been optimised – yay! In fairness this is the sort of behind the scenes, deep cut stuff most will never notice or perhaps even understand, but to cut a long wordy story short – Google likes us more, as the websites (both the EF and EKA) work better.
We feel a person in the know of web development and/or how google works would shudder at that interpretation but we deal with press-ups and the like, not computers – as many may have noticed when they peep in the office, and it looks like the opening scene from 2001: A Space Odyssey when David is trying to work the printer and James rocking back and forth in the corner because his emails are stuck in his outbox.
James would like to give a shoutout to Sara Swale long standing member of the EKA, for training at her last ten sessions. To most, this would seem like something one wouldn't shoutout about however, Sara is pregnant and has been making great improvements with James to assist in strength building and prevent her from losing her independence as movement becomes, well, less so.
Not only that, with only a few months to go and an all clear from the midwife, she is going to keep training until she can't now more – now that is dedication – well done Sarah!
New members of the EKA Team – Richard Cuff (previous Wednesday instructor of the EKA for those that are new) has had a baby girl, Nyah – well not him but his wife. Congrats. It's been a while (back on Jan 2nd) and mother baby are doing well, only matter of time before Richard starts her on his squat routine, good luck with that one Nyah.
Feb 2022 Elemental Kickboxing Leeds, Face to Face one to one kickboxing training (members only)
50% off your first block of 10 one to one kickboxing Training (members only) - £150.00
Offer runs 01.02.22 – 14.02.22