Newsletter: December 2021
Newsletter: December 2021
By: Elemental Fitness Ltd personaltraingleeds, healthandfitness, Newsletter, elementalfitnesleeds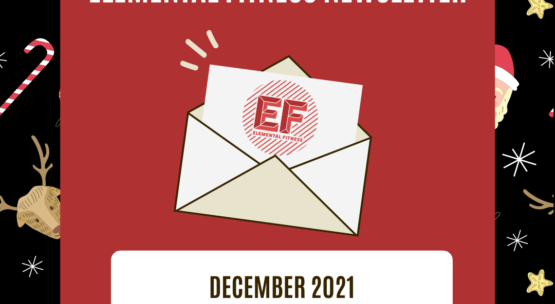 Christmas is upon us…have you sorted your Christmas shopping out? No? Same here.
Stuck for ideas, then let us help, we have martial arts equipment for those of you that have a kickboxer in your life. Perhaps you want to gift someone a few 1 on 1 sessions in personal training or kickboxing tuition (see below for new offer), maybe go all out and give them the full works with several months of training with us at the club and some remote online PT?
Don't go simple and buy that Lynx Africa set or bath bombs, instead, think outside the kickboxing…or maybe you want to treat yourself this Christmas...?
Let's get to it!
Note: Elemental Fitness and the EKA will be closed Friday 24.12.21 to Monday 03.01.22 (inclusive)
Since starting up again earlier in the year we have used the new Kickstart employment scheme to help bring jobs and the potential of a lifelong career to those that needed it as well as help smaller business (like ours) to flourish after such hard times.
This scheme sadly is coming to an end this year, but we plan to invest into it one more time before it ends. Hopefully we will have a new face around the gym come the new year. To read more on the scheme, check this blog out.
Elemental Fitness Challenge
The explosive challenge went off with a bang...get it? Because it was a firework themed challen…forget it, my talents are wasted.
A smaller leader-board this month but judging by clients' reactions at the subsequent session, this one really worked them hard. One client had DOMS (delayed onset muscle soreness) so bad it was 4 days until it wore off! Sign of a good leg workout.
For December/Christmas we go all out with a nice simple challenge that include the prowler (the sledge looking piece of equipment in the gym) with a sleigh push. Santa's reindeer are on strike, so we agreed that we would hold a challenge throughout December to see who can take the mantle of Rudolph and help jolly old Santa.
Go check the Elemental Fitness challenge leader-boards for more info.
We did it! We broke America!
Recently the team had a call from an American who was interested in Kickboxing training from us, in the UK, with them in the US. That says a lot about our reputation I suppose.
Well, several thousand miles isn't going to stop us from deliver the same service we do at home. This shows the power of remote training and how it can really bridge gaps for those that can't make the sessions/classes or want to get extra training on top of what they already do.
One of the reasons we decided to make the remote training a thing was to be as accessible as possible and inclusive to help those that want it.
If you're interested in online personal training, then check out our store front to see all our programmes, packages and remote training offers.
Investing in oneself when it comes to fitness can be daunting. You must look at your strengths and weaknesses and plan how you will tackle all the good and bad about you. As personal trainers, we see many people walk through our doors that need help, and we provide that motivation and structure – but a lot of work must come from the individual.
One individual who joined up recently is taking that in his stride, Jon Pierre. Only 6-weeks into training and is showing that he is determined to make a difference in his life. Hitting all goals set since his induction the next, and sometimes hardest step, is continuing this on. We don't doubt it and working together, both client and trainer results come easy. Well-done Jon.
In the run up to Christmas the team are starting to get festive (luckily the gym music hasn't fallen into Wizard on repeat…yet). All are busy with clients, classes and prepping for the return in the New Year. This means the team can now let there hair down now with the return of the EKA night out! Save the date as the team, club members, EF clients and anyone that wants to see there instructor slightly inebriated and more approachable than a drill sergeant.
December 18th at the original Oak Headingly 7:00pm over 18's for obvious reasons.
Two new blogs from last month to catch up on. First off is a look into why Monday class instructor Stu Wright became a personal trainer and why it's never too late to get in shape.
Second blog introduces new collaboration between Twist Physio and Elemental Fitness. Learn all about Rebecca and how she can help with those injuries we sometimes acquire partaking in kickboxing.