Newsletter: August 2022
By: Elemental Fitness Ltd healthandfitness, personaltrainerleeds, onlinepersonaltraining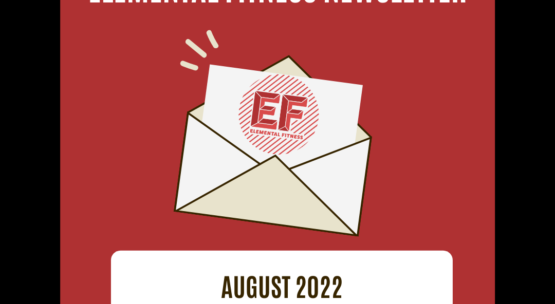 Welcome, it's the summer holidays but this isn't an excuse for time off. We don't close our classes so get yourself or your kids booked in and take advantage of continuous training throughout the year.
More painting & decorating (as is standard, might have to open a subsidiary of Elemental Fitness and call it Elemental Painters & Decorators at this rate), summer camp news for the youngsters and more training services for clients to help achieve your goals with ease!
Let's get to it!
We have now painted all the corridor and bathrooms. More facility upgrades are on the cards, but we are holding them close to our chests for now, don't want to give too much away. There will always be the odd touch up and alteration over the months and years, but we are entering the endgame now with the biggest and best changes for last.
Beyond the decorating, the personal training side of the business has seen improvements in its online training with more resources poured into effective remote training for clients. To know more about how remote training could benefit you head to the remote services page.
Finally, we added a training services page based on Low Back Pain Treatment. Personal Trainer James is qualified to assist with low back pain treatment through bespoke exercise programming. Check our other training services page to see how we could help you or someone you know with one on one personal training.
Elemental Fitness Challenge
Another good month, even with the heatwave, on the July Challenge. A solid series of plyometrics centred around a video game theme – namely Mario in July…because he jumps a lot.
Winner of July was…Steve Dunn!
Well done Steve, you made it seem like it was a piece of peach? (Somehow needed to make a reference there, apologies for a feeble attempt)
Next month's challenge will follow popular video game character Sonic. Those that grew up with the blue hedgehog will know him for two things, speed and rings. Expect to see use of the treadmill and the agility rings.
August Challenge board can be seen here.
Last newsletter we mentioned of the importance of training and how changes to rise in cost of living makes it hard to prioritise certain things. Focusing on simpler, more essential things such as your own physical and psychological health are important whatever is going on in the world.
No-one should have to decide between paying for a personal trainer or petrol for that month. It's not like your decided to buy a new Lamborghini or a second yacht, this is your health, and we are expertise in this field to help you improve it.
Therefore, we have built a wealth of content on our app for our members and clients to work with. All within a budget that is suited to their current lifestyle.
We have many different approaches to training:
- At the top end are our fully tailored personal training sessions that cater to your every need, these are your bread-and-butter PT sessions
- Remote training that fills a similar focus to the above yet without the need to be present with a PT in the facility
- Online training that gives you the tools and knowledge necessary, from our experienced trainers, to work independently without sacrificing on content.
If you want to know more about our services, see our training pages below explaining all the benefits that come with certain styles of programming. You shouldn't have to withhold on your own health, and we are here to assist you achieve a better quality of life.
- Remote Training
- Online Training
- Personal Training
- Kickboxing Classes
- Storefront for Elemental Fitness Online
This month the shoutout goes to Emma Agar. We mentioned her name a few months back when she had an unfortunate accident and ended up breaking her ankle. Well, 3-months on and she is back to squatting and lifting like there was no issue in the first place. It wasn't like she even stopped for those months either, as she completed twice a week training online with our remote training service. Now there is no excuse to stop training if Emma did all that.
Great work Emma, good to see you back!
It has now been confirmed that personal training and Monday adults kickboxing class instructor Stu Wright will be coming on board as a fulltime employee of Elemental Fitness come September.
Stu has worked with Elemental Fitness as a sub-contractor for the last 9 months, building his client base and gaining experience along the way. We are happy to have someone as invested as Stu join the team, his dedication to the club as a member and a PT client has given him a great understanding of Elemental Fitness' aims as a business.
Read more about Stu's journey in his blog, or if you want to get some sessions with him and start working with a personal trainer in our private studio let us know. You can book your induction now and receive a free supplement programme too
Check out our blog on how the Shop Small ideology can make the biggest difference to the local businesses and the individuals that run it.