Newsletter: November 2023
Newsletter: November 2023
By: Elemental Fitness Ltd Newsletter, personaltrainingleeds, onlinepersonaltraining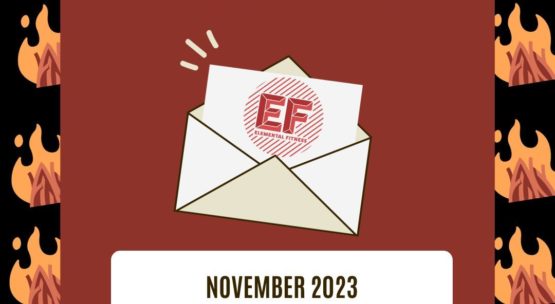 Greetings, everyone!
As always with these newsletters and the fact we are all Yorkshire persons, let's start off with "that weather 'ey!"
It has been a tad gloomy, yet you guys always bring sunshine into the Elemental Fitness facilities with your optimism, which we love, as we get to crush that with the most intense workouts and kickboxing classes, before brining you back up and getting those endorphins kicking before you head out to brave the storms once more.
Our odd way of saying thanks for training with us. Now we've said our piece, go ahead and catch up on all that is the EKA and Elemental Fitness.
Let's get to it!
Personal Training

Facilities: More little finishes to the gym, with the ring being completed and ring light up. Plans for the new entrance underway with the removal of the climbing wall and the potential of a larger office for the team.
To celebrate these exciting milestones, we're diving into the incredible benefits it brings to our studio. It's not just an impressive centrepiece to the studio, it's a game-changer!
Don't miss out, check our blog and discover the hidden gems of having a boxing ring in our club!
Venue Hire: Hi to all personal trainers, sports coaches, and fitness instructors! Did you know we offer gym space to hire for your personal training, sports coaching and fitness instructing needs?
Are you looking for a well-equipped gym to conduct your training sessions? Look no further than Elemental Fitness! We take pride in offering a bespoke facility tailored specifically for group classes and 1-1 training, providing you with an ideal environment to excel in your profession.
Our competitive pricing options are designed to suit your needs. For 1-1 coaching, prices start from as little as £1.50 per hour (based on a 30-hour week) or £7.50 per hour on a pay-as-you-go basis. If you prefer group classes, we offer them at £25 per hour.
Since 2008, Elemental Fitness has been successfully operating as a personal training and martial arts studio in the locale of West Leeds. Our passionate team consists of three experienced trainers - David, James, and Ryan. Each of them holds up to level 6 qualifications in sports and exercise, and together, they boast a collective experience of over 50 years in the fitness industry.
We understand that getting started or seeking more information may be on your mind. Worry not! We are here to support you every step of the way. Whether you want to enquire directly or explore further details, feel free to contact us or visit our Hire Page.
At Elemental Fitness, we are dedicated to empowering fitness professionals like you, so you can reach new heights in your career. Join us and make the most of our exceptional gym and studio facilities!
Together, let's elevate the fitness experience at Elemental Fitness!
Corporate/Business & Schools: Exciting News! We're returning to West End Primary School in November after a brief hiatus. Get ready for an action-packed term as we introduce freestyle karate and kickboxing to Key Stage 2 and 3 students.
Freestyle karate and kickboxing training is one of our most popular programs. It's not just about punches and kicks; it's a thrilling journey toward fitness, strength, and personal growth!
What sets us apart:
Expert Coaches: All our trainers are qualified martial arts instructors and up to level 6 personal trainers.
Comprehensive Training: From beginners to black belts and competition fighters, we've got you covered.
High-Energy Approach: We use modern freestyle karate and kickboxing methods to help you meet your fitness, weight loss, and martial arts goals.
Benefits of Having Us at Your School:
Improved Technique
Enhanced Form
Reduced Injury Risk
Faster Results
Increased Motivation
Inspiration
Varied Workouts
Expert Advice and Tips
Nutritional Guidance
Overcome Plateaus
Establish Healthy Habits
If you're interested in how we can benefit your school or business, check our Corporate/Schools Page. Feel free to reach out to us via email at [email protected] or give us a call at [0113 205 7433]. Let's make fitness and martial arts an exciting part of your curriculum!
Elemental Fitness Team: Introducing our most recent Personal Trainer Elsie, read more about why she started and how she can help you train towards your goals.
Learn more about her here on our blog.
If you are interested in changing your training program, adding another approach or starting a new one - take your training to the next level with our qualified up to Level 6 trainers. Start your journey now by booking in here!
Contact us via email at [email protected] or phone at 0113 205 7433.
Congratulations to Najwa Tabib! A recent and long-standing personal training client and formidable 1st dan black belt at the Elemental Kickboxing Leeds demonstrated mental and physical strength last weekend, by conquering the Manchester half marathon, achieving an impressive pace of 5.19km per hour and a remarkable total time of just 1 hour and 52 minutes.
In the UK, the average time for a female runner to complete a half marathon is approximately 2 hours, 11 minutes, and 57 seconds, which is roughly 6 minutes and 16 seconds per kilometre – this is further demonstrated by her impressive stats with clear improvements in her VO2 Max from an average of 34l/min to 45.8l/min! Najwa defied the odds and outpaced this benchmark while recovering from Covid.
Over the past 10 months, Najwa has undergone an extraordinary transformation, setting herself the ambitious goal of completing a half marathon – a goal she's not only reached but excelled at. She's more than a determined fitness enthusiast; she's now a passionate runner, a 1st dan black belt in freestyle karate and kickboxing, and a dedicated A&E consultant - we can't wait to see what she conquers next!
*What is VO2 max? VO2 max is the maximum or ideal rate at which the heart, lungs, and muscles can efficiently utilize oxygen during physical activity, employed to assess an individual's personal aerobic capacity.
Are you prepared to take your fitness and kickboxing abilities to the next level, guided by a team of highly experienced coaches? Join us and enhance your fitness journey with our cadre of trainers, holding up to Level 6 certifications and boasting a collective 50+ years of experience in the fitness industry.
Embark on your transformative journey today by reserving your spot now for an induction session, or reach out to us via email at [email protected] or by phone at 0113 205 7433. We are eagerly awaiting the opportunity to be a part of your fitness voyage, and together, we will help you achieve your aspirations!