Newsletter: May 2023
By: Elemental Fitness Ltd Newsletter, personaltrainingleeds, onlinepersonaltraining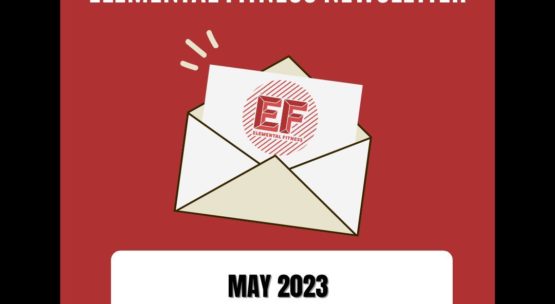 Greetings everyone!
As we wrap up another month of 2023, the team at Elemental Fitness and the EKA are thrilled to report that positive vibes are abound. We've seen an uptick in classes and members, with the gym bustling as everyone works hard to get ready for the summer season. Plus, we're excited to announce that our regular EKA catch-up for both kids and adults is just around the corner.
It's heartening to see more of you stepping up to assist with classes, as it shows that our members are willing to go the extra mile for their club. In addition, we're pleased to confirm that the new gym flooring is on its way, which is a welcome relief as we've been itching to see the gym's new side!
*Important Reminder* we will be closed on the following bank holidays throughout May: 1st, 8th and 29th
Renovations:
News on the proverbial street is the backordered flooring is now on its way within the next week. This means it will start to be laid in the beginning of May (fingers crossed).
School Work:
The team are still busy with after school clubs adding another one to the working week with West End Primary adding a second extracurricular kickboxing class to their calendar.
Venue Hire:
As we move into May, it's a busy time for Personal Trainers as many people who started their New Year's resolutions in the gym are beginning to realise, they may need some assistance in reaching their goals.
Now is the perfect time to remind everyone that our facilities are available for hire!
Whether you are a new personal trainer looking for a space to start your business or an established class instructor in need of a large and well-equipped facility to accommodate your clients, Elementa Fitness has everything you need.
To learn more about our hiring options, please visit our dedicated page on our website or email us at [email protected] for more information. We look forward to hearing from you!
We have received numerous requests from our members and clients about ways to supplement their training outside of their regular classes and sessions. While we always recommend attending more classes or personal training sessions for the best results, we understand that cost is a factor for some. Therefore, we are excited to offer a more affordable solution: our online training programs.
These programs are a fraction of the cost of classes and sessions, yet still provide expert-designed training for 6 to 12 weeks. From simple core workouts to help you achieve visible abs, to full gym routines that will help you build a lean and toned physique, we have a program to suit your needs.
With prices starting at just 70p per workout, our storefront offers a range of training programs to choose from. So why not supplement your regular training routine with one of our programs and take your fitness journey to the next level?
We want to give another big shoutout to Caitlin Butler. We know this isn't the first time we've praised her, but she truly deserves it! Despite feeling under the weather lately, Caitlin continues to show up to her sessions and give it her all. Do or do not, there is no try – and Caitlin certainly embodies that mindset.
Over the past year, Caitlin has made impressive progress in her weight loss journey and overall fitness level. She and her trainer, James, have now even incorporated more kickboxing into her sessions. This is a big deal for Caitlin, who used to struggle with knee issues and never thought she'd be able to throw kicks with confidence. But with her incredible willpower and determination, she's doing it and succeeding!
Caitlin, keep up the amazing work!
You may have noticed a new face around the gym and in the office recently, assisting James and Stu with their clients. We are delighted to welcome Elsie, who is on a work placement from Leeds Trinity University. As many of you may know, we have had several work placements in the past, thanks to David's alumni connection. Elsie is enthusiastic about building on her experience and is here to assist the team with her knowledge in nutrition.
To get to know Elsie better, check out her latest blog where she shares some insights into her background and interests.
Check out our blog page for insightful content on lifestyle, martial arts, training, and everything in between. Our team regularly updates the blog with newsletters and informative posts.
In addition to our team blogs, we also feature content from our members and clients. Whether you have something to say about yourself, training, or a deeper reflection on the history of martial arts and your take on fitness and health, we encourage you to share your thoughts with us and our readers.