Newsletter: May 2022
By: Elemental Fitness Ltd healthandfitness, Newsletter, personaltrainingleeds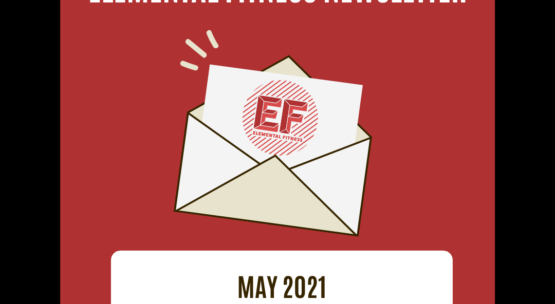 Once again, the team have been spring cleaning and have given the facilities a spruce-up. Only the little details this time but it makes the difference.
There is still a bit to go but there are some interesting changes coming, where this slow and steady approach will help build the foundations to what will be an awesome space to train in. Let's go!
More painting has been completed, this time the railings which were once yellow are now black. This brings the space together a little as they match the bags – yeah…were almost fully qualified interior designers now.
The entrance has been brightened with a shock of white to help the club stand out, next on the agenda is to do the floor in the corridor…perhaps some hanging baskets, get a few floor lamps from Ikea, ooh, how about we have some of those massive bean bags for clients to chill on…hang on – getting a bit ahead of ourselves there.
Let's just stick to floor first.
Beyond decorating, we have fixed he rower and we should have a new cross-trainer up and running – more ways to push you, yay!
Elemental Fitness Challenge
May's Challenge will use the newly improved Rower. Using the fish game – simple and lots of fun.
For those that are thinking, what is the fish game, well you're in for a treat. Think of those old arcade games where you must make your little character move up and down dodging the bad guys whilst picking up power ups – it is essentially that.
The game last around 3 minutes. To get points you must eat smaller fish - lots of fun!
A new package has landed! The Kickboxing: Strength & Mobility programme is here to assist you with helping you improve your kicking ability!
With collaboration from Rebecca Gregson of Twist Physio, her and the EF team have built this tailored workout programme based on building familiarity with the first set of kicks learned in the Elemental Kickboxing Academy syllabus.
Perfect for those wanting to impress at their grading and see huge improvements when it comes to sparring.
What's more, we have also added in the Improve Your Flexibility package with a 20% discount for those that want to get higher kicks with ease
A few newsletters ago we mentioned client Sarah Swale was doing exceptionally well in her PT sessions with James whilst 7 months pregnant. Well, we got news that baby boy Jude was born early April and both mother and child are doing fantastically well.
It's only a matter of time now before Sarah is ready to get back to class and who knows, perhaps we'll have another generation joining us in about 5 years' time?
20% off kickboxing beginner's combo – flexibility package and kickboxing-strength and mobility package
Offer runs 01.05.22 – 14.05.22