Newsletter: June 2023
By: Elemental Fitness Ltd Newsletter, personaltrainingleeds, onlinepersonaltraining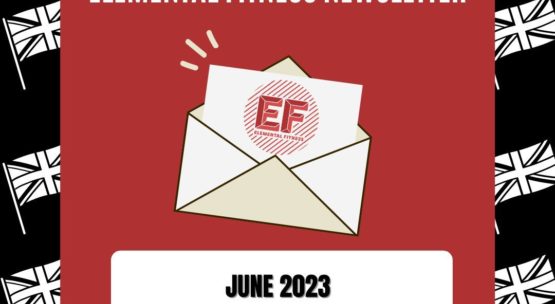 Greetings, everyone!
As summer approaches, many of us are getting ready for our summer holidays. Whether you're aiming to achieve a beach-ready body or simply want to increase your fitness for an active vacation instead of lounging by the pool, now is the time to kick your training into high gear. Time is of the essence, with only a few weeks/months away.
Speaking of the warm weather, we know that training in a hot gym can be challenging. But fear not, because we have an exciting surprise in store for you this summer! Click the newsletter pictures below to uncover the new discovery our team has made in the gym. Trust us, it's something you won't want to miss.
Renovations:
Alright, we understand that many of you might be wondering about the progress of the other room and whether it will ever be completed. Some long-time members may recall the numerous newsletters discussing the matting of the floor, and it may seem like we're stuck in a cycle of repeated setbacks.
However, we have some updates regarding the floor situation. Without delving into too many specifics, issues were encountered with the company that is providing the flooring. Consequently, a different company needed to be sourced, due to a delay in refunds from the first company we haven't been able to proceed immediately.
The good news is that the new company we're working with offers next-day delivery, ensuring that once the issues with the first company are resolved, the floor will be swiftly delivered. We understand your anticipation to see the new room, and we share that excitement as well. We apologize for the delay and any inconvenience caused to those eager to explore the space.
Rest assured, we are actively working towards the resolution of these challenges, and we appreciate your patience and understanding during this process.
We are excited to announce the launch of our new access all areas training app! This innovative platform provides you with unlimited access to a wide range of training resources right at your fingertips. Whether you're seeking fast and easy-to-follow workouts, building your own routines, or looking for inspiration, our app has you covered.
Here's a quick overview of what you can expect from our package:
• Library of Full Work Out Programmes: Gain access to a diverse library of complete training programmes. These programmes, ranging from 6 to 26 weeks, are carefully crafted to help you achieve your fitness goals effectively and efficiently.
• 300+ Individual Workouts: Explore over 300 individual workouts that cater to various fitness levels and preferences. Whether you're targeting specific muscle groups, improving cardiovascular endurance, or enhancing overall strength, you'll find workouts tailored to your needs.
• New Workouts Added Monthly: We are committed to keeping the content fresh and engaging. Expect regular updates with new workouts to keep your fitness journey exciting and dynamic.
• Integration with Fitbit, Apple Watch, and Other Apps: Seamlessly integrate your favourite fitness tracking devices, such as Fitbit and Apple Watch, to monitor your progress. Additionally, our app can sync with other apps like MyFitnessPal, ensuring a comprehensive approach to tracking your goals, calories, and workout progression.
• Track Your Goals, Calories, and Workout Progression: Stay motivated and accountable by monitoring your progress within the app. Set goals, track calories burned, and witness your workout performance improve over time.
All these incredible features are available to you for just £8.99 a month!! We believe this accessible pricing allows everyone to take advantage of the app's benefits without breaking the bank.
Join us on this journey to optimize your health and fitness with our comprehensive training app.
Elemental Fitness Team

We are thrilled to share that Ryan is on the verge of completing his apprenticeship and becoming a fully qualified personal trainer at Elemental Fitness. His journey with us began in 2019, and despite facing setbacks caused by pandemics and other challenges, he has persevered and reached the light at the end of the tunnel.
Ryan's roots trace back to the EKA, where he trained at a young age and gradually worked his way up the ranks. Throughout his teenage years, he dedicated time to assisting others, honing his skills both as a martial artist and a trainer. Today, he proudly holds a 2nd Dan Black Belt and a Level 3 PT qualification, making him the ideal trainer for those seeking a blend of strength and conditioning training alongside kickboxing technique improvement.
To schedule an induction session with Ryan to use his expertise and help you reach your fitness goals, purchase our induction package here. Alternatively, you can catch him in the gym before or after classes, or simply give us a call at 0113 205 7433 to arrange a session.
Check out our blog page for insightful content on lifestyle, martial arts, training, and everything in between. Our team regularly updates the blog with newsletters and informative posts.
In addition to our team blogs, we also feature content from our members and clients. Whether you have something to say about yourself, training, or a deeper reflection on the history of martial arts and your take on fitness and health, we encourage you to share your thoughts with us and our readers.
Healthy regards,
The Elemental Fitness and EKA Team.