Newsletter: June 2022
By: Elemental Fitness Ltd healthandfitness, platinumjubilee, personaltrainer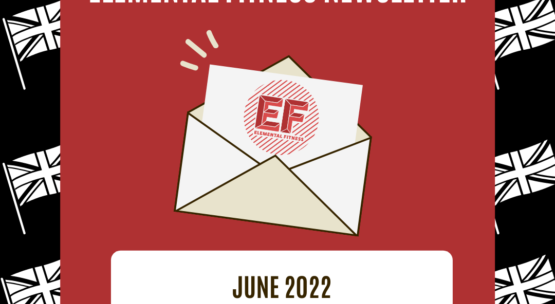 Welcome to the Elemental Fitness and EKA June newsletter, hope you're all prepped for the long weekend coming up? With any luck the weather is nice enough for some outdoor activities and an opportunity to get the barbeque out in celebration.
Things to look forward to from us, after the extended break, involve the next set of gradings in the second week and then to finish June off, the 4 plus hours of black belt grading on the 25th, and the inevitable celebrations that will come after!
Another decorating job completed with the outside shutters being painted black to further bring out the entrances blinding white (in a good way). This will showcase our premises a little more and standout garnering attention from passers-by.
Over the years members have always commented on not knowing about the gym being in the area and are pleasantly surprised about our little hideaway marital arts club/private studio. The benefit to this is the 'V.I.P' feel of the gym, with only those in the know giving a premium feel perhaps? The downside has always been promoting the business (nothing major as we have full classes and busy with PT session) but we have always felt there could be more…and now there is with this new paint job.
Elemental Fitness Challenge
Well, the fish game went down a treat in May. We had a full board and many laughing clients as they got to play the fish game on the rower – a few of you did want to rage quit exclaiming about broken hit boxes and temperamental A.I, perhaps a few to many nights on Call of Duty there.
Using the fish game as a basis to get you guys exercising made us think about implementing other games on the machines…were thinking getting Doom on the treadmill?
For June's challenge, let's move to the new piece of equipment, the cross trainer. Unfortunately, there isn't any option to install Doom so you guys will have to bring in your own gaming system to get the thrill of last month's fish challenge. More information can be found on the challenge page.
We have noticed a few of you starting the new Kickboxing: Strength & Mobility programme to help with adding power and height in those kicks, some of you achieving some impressive results.
This package covers all training aspects to start seeing a vast improvement in those starting out; teaching the basics and implementing good form; to those that have been training a while and need a little push with higher training frequency.
Click here to get the Kickboxing: Strength & Mobility Package now for £14.99
A few shout outs this month from the boss man himself, David. David wanted to highlight some of his clients' achievements.
Justin Williams has revisited the trap bar deadlift, last time he trained any deadlift was at least 2-years ago. First try back and he smashes out 125kg, sometimes you need to show off – good job!
Jon Pierre has increased his training with 1.5-hour kickboxing PTs and has stated to use the Elemental Fitness Gym Access with an increase to his confidence in weight training and working independent - keep it up!
Emma Agar is back training after a broken ankle. What helped her was the remote training she went thought whilst stuck at home with her injury to keep on top of gains, showing great will and determination – awesome work.
In the last week of May we had club member and Black Belt Arron Martin start his work experience. Helping with the running of Elemental Fitness with tasks such as gym administration, facility organization and content creation, Aaron also used his time to observer PT sessions and help with Classes.
We hope the week gave Aaron a glimpse into the working life of a personal trainer/martial arts instructor and he learned a few things to assist in his career path…failing that Aaron did tell us he wants to be an actor.
If you are interested in or know someone that is going through their work experience week let us know by emailing [email protected].
20% off your first 10 block of PT sessions with Ryan when you purchase the Dumbbell Phase 1 programme?

EKA Members get 30% Off!
Get phase one here.
Offer runs from 01.06.2022 - 30.06.2022 Terms & Conditions apply.
Not currently up, but, as part of his work experience, Aaron was tasked with researching into military training techniques and how they incorporate martial arts. From there he broke down how this could be implemented into training techniques for the everyday person and the benefits of that style of training.
An interesting read so be sure to check it out when it goes live in a few weeks. Head to the blog page now to see our other blogs including our most popular one on the king of exercise the Deadlift.