Newsletter: July 2022
By: Elemental Fitness Ltd healthandfitness, personaltrainingleeds, Blackbelt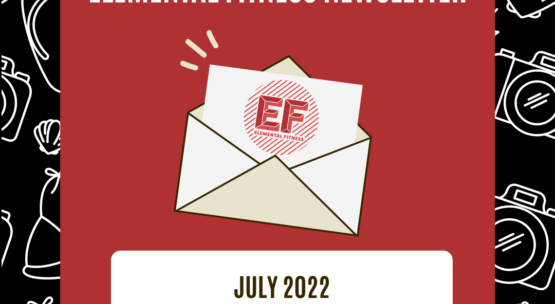 Welcome to the Elemental Fitness July newsletter. June grading has been completed, we now have a new group of black belts at the EKA and, as is custom of late, more paint work has been started – this time the floors.
Not long now before the summer holidays begin and we have something special coming up with a summer training camp for the youngsters to keep them occupied over the summer break.
Let's get to it!
As is the norm now, for many of you that have trained with us over the years, the facilities do like to heat up a tad. Usually hitting it's hottest around 4/5ish in the afternoon.
Obviously, make sure you are hydrated and take sessions at a pace, listening to the advice of your trainer, but we would like to share a blog we found interesting with performance in training in hot weather.
As mentioned in the article it's all about controlling that temp, and you body does that naturally by shutting of the ability to push you harder to prevent heatstroke, yet you must still be vigilant. The upside to training in the heat means better performance on colder days as well as hot with better blood circulation.
When your next in and its warm just think how much stronger, faster, and more durable you're getting because of it, and if you ask nicely, I'm sure your trainer will fan you with their clipboard on rest times to help cool you.
Elemental Fitness Challenge
The cross-trainer of Doom claimed many of you over June, the intense heat did make it feel like hell on earth, yet you all persevered to complete the challenge.
The winner of Junes challenge is…Paul Taylor
Well done, you were ripping and tearing though that challenge with ease.
Next challenge, and trying to continue the videogame theme, for July you will be tasked workout like one of the most famous video game characters – Mario!
For those that know Mario, he likes to jump, a lot. So be prepped for a plyometrics challenge for July.
Over the last few months, we have been building content for our members to purchase as a supplement to their training. We understand the current state of things with the economy affecting many of us, and we also understand that exercise is important and a great way to focus on the simpler, more essential things such as your own physical and psychological health.
We have many different approaches to training:
- At the top end are our fully tailored personal training sessions that cater to your every need, these are your bread-and-butter PT sessions.
- Remote training that fills a similar focus to the above, yet without the need to be present with a PT in the EF facility.
- Online training that gives you the tools and knowledge necessary, from our experienced trainers, to work independently without sacrificing on content.
We want to give all our clients and members the ability to train to their fullest and we hope our services new and old will help clients achieve all they want, with a price that works for them.
If you want the content of a PT session, yet don't feel you're able to make that initial investment, then we would recommend remote training, a more affordable approach that saves on cost, not content. Prices per remote session work out at £8.60
Beyond that is our programmed packages that give the user the ability to obtain the same routines, the only difference is there is no personal trainer taking you through them (either in person or through remote). These individual workouts cost no more than 0.95p!
See our full price list on our training services or check out our online programmes through our storefront.
Shout-outs this month go to clients Paul Taylor and Barbara Dickinson.
First off Paul has made some impressive improvements with his shoulders, what was once thought to be a frozen shoulder, and reduced mobility making it near impossible to lift above his eyeline, both him and his trainer James have been working hard to increase his range of motion.
Last week, for the first time in years, he was able to move his shoulders into a position behind his head which allowed him to complete a back squat. This is a great achievement and only means better things to come, well done Paul!
Secondly, an old client of Elemental Fitness, Barbara, has returned to training after a few turbulent months off. Having been admitted to ICU for a few weeks with some complications, she has now committed herself to once a week training with James to improve her quality of life. It is a long road ahead, but she is ready for the challenge, keep at it Barbara!
It's time to say goodbye to Danielle as she closes her chapter with us at Elemental Fitness, it has been great to see Danielle come in from the Kickstart Employment scheme after covid and progress in a bustling work environment. Danielle says she has enjoyed her time with us at EF and leant many things from the team (especially James, as his wisdom knows no bounds…?). Those that have trained with her know her for her intense ab routines and ability to get one more out of you.
Known for her artistic gift, she plans to pursue a career in tattooing. We wish you the best of luck and perhaps see you at training as a member in the future.
Blogs