Newsletter: January 2023
By: Elemental Fitness Ltd healthandfitness, persoanltrainingleeds, Newsletter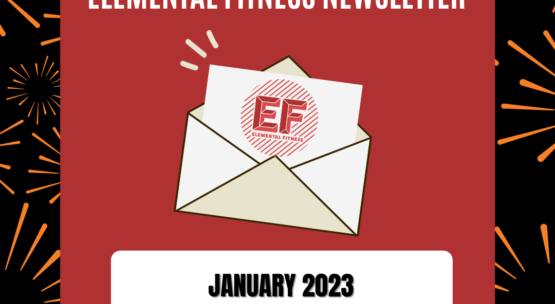 Hope everyone had a nice Christmas break, and we all had our fill of mince pies, sherry, and other pleasures. Back to it now and maybe with some New Year Resolutions to uphold?
We can expect at least half if not many more of you have some sort of thought that goes like – "...this is the year I finally get my abs…" or perhaps "…no more weekday drinking for me..." or the classic "…I will finally get use of that gym membership, I promise…"
Well, you all know that we can help with all of those and more. Want to see those abs? then book some classes in and start burning those excess calories with intense kickboxing sessions. Maybe you need or more focused approach with some personal training sessions to help control those weekday indulgences or just getting your arse to our facilities and start making a change…for real this time!
We got your back, now let's get to it!
The Elemental Fitness Gym Access is now available to those on a membership with the EKA and clients of Elemental Fitness at £3.50 an hour.
Our standard monthly membership is still available if you wish to have unlimited access, but this option is a great addition to those that wish to use the facilities to supplement their ongoing training.
The use of the facilities is dependent on its spaces – however, this could be different in the coming months when the facilities get a makeover…more on that later.
To learn more head over to the gym access page now.
We recently had a fair few shoutouts and noticed they were all males. This is unusual as our clientele is split in favour of females. To put it right we have dedicated a few blogs to these women on their achievements. These will be peppered throughout January so keep an eye out for them if not only to gain insight but some inspiration too. To start you off, here is client Louise who achieved her fist Olympic lift in 2022!
A recap on all the teams' efforts over the New Year:
Apprentice Ryan is less than 6 months away from completing his qualification as a personal trainer. Starting November 2021, he has been working as a qualified martial arts instructor and fitness instructor whilst studying hard to pass his level 3.
Team member Stu passed his probation period and has made a start in the new year on his fourth school contract at west end primary and working towards securing more business for personal trainer access to the facilities.
Boss-man David has been working hard as normal throughout 2022 and has many plans to change things up in 2023 including classes restructure, more options with EKA apparel through Teemill and facilities overhaul amongst other things.
James… he got his haircut and beard trimmed finally.
Kettlebells are a staple at the Elemental Fitness gym but why are they any good? Why choose them over dumbbells? Well…give this a read and find out why.