Newsletter: April 2022
By: Elemental Fitness Ltd healthandfitness, Newsletter, personaltrainingleeds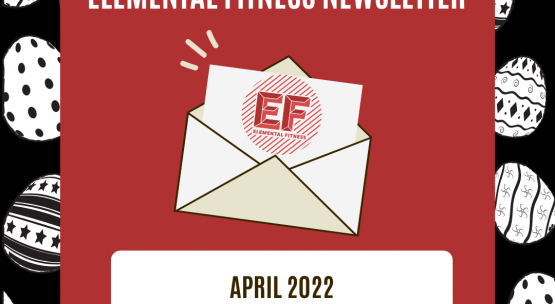 Greetings all – hope everyone has been enjoying the nice weather (apart from that odd blizzard we had, have we angered the gods or something with everything going on in the world?) Many of you are still smashing it at classes when the beer gardens and impromptu barbeques are calling – well done.
Let's get to it.
Personal training

More work has been done with the Elemental Fitness Facelift. Since last newsletter, the team have completed the corridors finishing touches and the bathrooms – all looking clean and fresh.
Along with the fresh coat of paint, we have some new hanging punch bags. These bags are a great addition for the EKA classes but they also server the purpose of being available to those that use the Elemental Fitness Gym Access. Towards the back of the floor space these bags will be opened to use for those that want to practice their kickboxing technique or some high intensity circuits with the free weights.
To help we have also made a 6-week strength and condition programme that you can access when signing up to Gym Access – Remember, members of the club and existing PT clients both in person and remote training, receive a 20% discount too. To learn more about gym access visit our gym access page
Elemental Fitness Challenge
We have a winner of the March Challenge – competing 365 diamond press-ups in his session, Stewart Clark is top of the leader board and top spot for 2022, good work!
April brings spring and to give you an improved spring in your step this month's challenge will see you going for reps on calf raises, nice and simple – also means nice and evil. Be prepared to get some major cramps on this one.
Elemental Fitness & Twist Physio are coming together to make a Kickboxing: Strength & Mobility Programme. As we are a martial arts club and our personal trainers have many years' experience in freestyle kickboxing, a good majority of our clientele already are or waning martial arts training.
To assist with this, we have teamed with the qualifications and knowledge of Rebecca from Twist Physio to tailor a programme that works beyond the classes and your 1 on 1 PT sessions.
We expect the programme to be live in the coming weeks so keep an eye on our store front, and whilst your there you may find a programme that could assist you further in your training
This month's client mention goes to Nathan Lammonby. A long-standing member of the EKA from a young teen, now in his 20's. Nathan has recently found new life in his kickboxing training and is excited at the prospect to earn his next black belt. One of James' clients, he has been training non-stop with strength and condition at his PT and getting at least once a week class in.
James says he is glad to see Nathan back on it and is impressed with his work recently – keep it up Nathan and perhaps you'll finally get an opportunity to get back at James for this round way back when (the end of the video is both of them looking at the look after Nathan thought he kick James' tooth out)
Want a free personal training session at Elemental Fitness? Also thinking about upping your training. Why not do both with Aprils Offer?
£30.00 Free, upgrade your membership 1 tier and get 1 free PT with Ryan
As we are working closely with Rebecaa of Twist Physio to build a new programme to assist all members and clientele of Elemental Fitness check out this short blog to learn more about her