Why I became a P.T. and not a Fashion Model
Why I became a P.T. and not a Fashion Model
By: James Clark personaltrainer, fashion model, fitness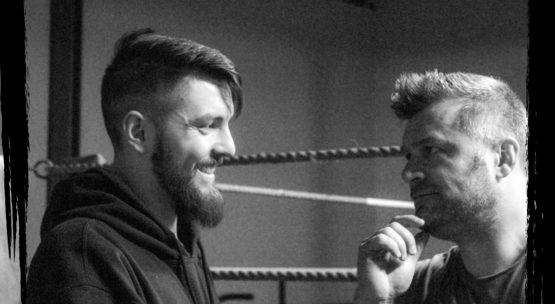 What made you become a personal trainer?
Before I became a personal trainer, I worked a shift job at a supermarket. Originally it was a stop gap of no more than a year to start earning money whilst I figured out and understand what my purpose in life was.

Skip ahead 3 years and I was being offered a more senior role with the promise of climbing the ranks in retail. It was at this point I realised I don't want to be stuck doing something I don't have the passion for. Unfortunately, it took me another 2 years of working in the middle of the night to recognise this.
During my time as a shelf filler I began my journey into martial arts, specifically freestyle kickboxing. Then, my life consisted of feeling depressed working at a job I felt no connection to and every Tuesday/Thursday kicking and punch to relieve any stress built up at said job.
Looking back, it was glaringly obvious that my natural take to kickboxing could've been turned into something more than a once a week thing. However, back then, no-one told me you could literally take something you love and make a career out of it.
On September 1st, 2014 I had left the long nights and terrible back ache of 5 years to work as a private kickboxing instructor/trainer. I wasn't a fully qualified P.T. when I started. It now made sense to study for a personal training qualification to broaden my skills and knowledge and increase my earning potential. 2 years later I gained my qualification as a personal trainer and have completed numerous courses to improve on my ability.
I never thought about becoming a personal trainer 4 years ago. It never entered my head that it was something I longed to do. However, realising that you can make a living from a hobby is what then pushed me to become a personal trainer and it's this that excites me. Imagine what/where I'll be in another 4 years' time?
What's your fitness speciality
Being specialised is important in our time. I remember reading that there are an estimated 640 million professionals in the world each one vying for advancement in there chosen profession. Another statistic I recently came across alleged there were 13,770 registered personal trainers in the U.K (I dread to think of the ones not registered).
As a personal trainer I need something to stand out. There are many avenues one can take in the fitness industry to give them the edge over the competition. Starting out as a personal trainer I had already achieved my first-degree black belt in freestyle kickboxing.
Originally, I had used my knowledge in martial arts to train others before becoming a personal trainer. When I decided to go for a qualification in P.T. the course, I had gone for offered several 1-day workshops that added multiple qualifications on top of the level 3 personal trainer (the only one I really wanted – or so I thought).
My main speciality, however, is my experience in Kickboxing. Being able to offer a service to clients that allows them to learn a new and interesting skill whilst getting fit will be the one thing that will keep me ahead of the pack.
What qualifications do you have?
Aside from a second-degree black belt in Freestyle Kickboxing and a being a level 3 Personal Trainer I have a few other qualifications that expand my knowledge.
To date I have qualifications in nutrition and weight management, exercise referral, exercise for fat loss, behavioural change, advanced resistance training, functional equipment training and circuit training.
I am currently in the process of earning my level 4 P.T in lower back pain. It will not end there either. I would like to earn another black belt with another martial art (preferably something along the lines of BJJ), as well as go further with my P.T. and keep going until I get PhD, the sky's the limit.
How do you assess new clients?
There are a multitude of ways to assess clients. You have a physiological breakdown of the client, their body fat, muscle mass, bone mass, overall weight etc... these are the best way of building a reference point for both myself and the client to establish what needs changing or maintaining.
Then you have the psychological evaluation of a client's wellbeing through helping them be confident with their appearance or improving their motivation and to keep positive. This is always the trickier one to review as there is no really set guideline as there is to, say, record healthy levels of body fat.
I like to be a thorough when assessing clients. Get a back story of them to understand how they have got to the is point of sitting in front of me asking for guidance. With this I can get a picture of what has happened and what needs to happen in order to set goals effectively.
Then I do the usual set of measurements that include testing body fat, muscle mass, bone mass and so on. This gives me a starting point for a visually representation of the path my clients will take helping them get to grips with how they have improved.
Once all this is done client's will have a full breakdown of what is required and expected of themselves as well as from me to ascertain their improved quality of life.
Do you create meal plans?
Creating meal plans is something that requires a lot of time and dedication. Currently in my profession as a personal trainer I do not create meal plans for clients. This is not to say I won't ever do them.
The proverb – "Give a man a fish and you feed him for a day. Teach a man to fish and you feed him for a lifetime". Creating a meal plan for busy clients is an easy way for them to keep on top of their hectic lifestyles from business owners to work at home parents and all those in between. However, if I can advise and teach them how to lead a healthier lifestyle through diet then they are more likely to stick with it for longer.
Small changes are the ones that can be everlasting, my clients that listen to me advice of making these small, seemingly insignificant, changes are the ones that achieve their gaols at a faster rate. These changes range from portion control (simply halving a meal to a correct portion size can drastically reduce unwanted excess body fat due to a calorie intake more in line with what is required) to swapping pop for water – this is a big one that I have had many clients say their entire world view has changed when they are properly hydrated.
How do you track fitness goals?
Fitness goals can be measured with set tests that have a predetermined list (called a table of norms) that you can assess a client against to see how their performance is. We use these as they ae industry standard and can give ratings out from poor to excellent.
However, as these are based on a census you are always reminding the client how they are trying to do better than a national average, which is great and can motivate, but the first person you must beat is yourself.
Therefore, I will always have a simple routine that can be measured against the previous time and will always make it relative to the client. Client wants to do pull ups – then first session is show me how many you can do simple as that.
What is your preferred style of encouragement?
Realistic.
There are different 'breeds' of PT all who have a niche in the market, for example, the classic 'Drill Sergeant' PT works best with clients that are well aware they need a kick up the arse and the only way to do it is have 'Big Terry' shout them off the couch to do burpees.
I find I can be quite varied when it comes to encouraging clients. I train family members I can be more open with and have a, albeit more comedic, 'Drill Sergeant' vibe with them. With new clients my approach comes to be more realistic.
It will not take me long to get an idea of what my client is like (I like to believe I am a good judge of character) and my method is always keeping the client engaged within their limits. I am not saying I hold them back from going above and beyond, more so that I am helping them understand what it is they are trying to achieve with what they can give. Yes, I could say give me one more rep, but is that forced rep in bad form worth it? Most likely not, chances are it just teaches them bad habits which will only lead to attaining goals harder.
With proper programmes and progressive overload, you can always work within a comfortable limit within a session and still improve. That being said… shouting at clients to just do the exercise always works.
What are your favourite exercise?
Being trained in martial arts, my go to favourite exercise will be based around kickboxing. Training in the sport is great for variety to keep you engaged, hitting pads/bags/people is also a brilliant way to release pent up energy and frustration too.
To pick from the many different exercises centred around kickboxing is hard as the general practice of it I would class as the best. However, I am also a fan of resistance training and have an advanced resistance training qualification has given me a different look into working with weights.
A favourite routine for me would be back, specifically upper back, specifically the pull up. It is an exercise that makes you feel strong and requires a great control of your entire body. Also, from a posture and core strength view it is an exercise that improves these areas massively which is needed for literally every other exercise you do.
What do you like to do away from the gym?
I have been told I am a very laid back 'chill guy'. Being a personal trainer and working with clients requires you to be always optimistic and upbeat to keep you client happy, even on days when you might not feel great you need to make sure the client comes first to maintain that positive energy in their session.
When I am home, I like to keep quiet and just relax, or at least I will try. I have a 2 year old that prevents this but it doesn't bother me, I work longer hours than your usual 9 to 5 so every waking minute I can get with him I will be up and playing around with Lego or teaching him the alphabet.
My partner will also keep things moving when away from the work/gym. Without her I would probably end up laying on the couch on my day off playing video-games until it was time to go to bed for work the next day – although we do enjoy a night of gaming together.
We also cook together (most of the time I will do the prep and cleaning as she will make my cooking look like my 2-year-old put playdough in the oven and sprinkled it with too much cheese).
Another aspect to my life is music. I play bass guitar and used to be in a band called 'The Rumour' (did quite well and made some recordings, but this is another story for another day). It has been a while since I have played but I listen to music as often as I can at work, training, cleaning, eating, playing games, driving – anywhere and everywhere. I studied music for A-levels and went to get a BTEC Diploma in Music Technology (this was before the Sainsbury's saga) and maybe someday I will pick that thunderbird up again and 'slappa-da-bass man'.
These times are great to unwind, I love my job to the point it doesn't feel like a job, more of an extension of my day to day life – however, sometimes you have to put the barbell down, give your chest a rest from the major gains and take a step back from the things you love and relax.
The reason I didn't become a fashion model? I love kickboxing too much.