Newsletter: January 2022
By: Elemental Fitness Ltd healthandfitness, personaltrainingleeds, Newsletter, elementalfitness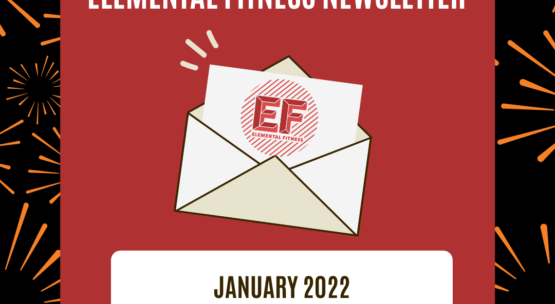 Hope everyone had a nice Christmas break, and we all had our fill of mince pies, sherry, and other pleasures. Back to it now and maybe with some New Year Resolutions to uphold?
We can expect at least half if not many more of you have some sort of thought that goes like – "...this is the year I finally get my abs…" or perhaps "…no more weekday drinking for me..." or the classic "…I will finally get use of that gym membership, I promise…"
Well, you all know that we can help with all of those and more. Want to see those abs? then book some classes in and start burning those excess calories with intense kickboxing sessions. Maybe you need or more focused approach with some personal training sessions to help control those weekday indulgences or just getting your arse to our facilities and start making a change…for real this time!
We got your back, now let's get to it!
The Elemental Fitness gym is now open for those that want to up their training for 2022!
Only available to members and clients of the EKA and Elementa Fitness our gym access membership is there to supplement current training, whether that be a boost to your kickboxing classes with a weights routine to strengthen those kicks or to increase your frequency of training to hit those body fat goals you have set with your personal trainer.
What's more, is we are also throwing in a free 6-week dumbbell programme for you to get started with. This programme is perfect for those that need a twice a week routine that hits every muscle whilst keeping it simple with a pair of dumbbells.
To find out more please email [email protected] and ask about joining up.
Elemental Fitness Challenge
The Sanat Sleigh Push Challenge proved to be quite a hit amongst a few clients, enough to create a little rivalry between two long standing clients of Elemental Fitness. Both John Macdonald and Steve Butler battled it out over December to prove who had it in them to reign supreme.
In the end it was Steve that pushed to victory with a mind blowing 1.325 km done. Which is mind blowing as that was pushing the prowler with his own bodyweight on (and Steve isn't a little fella) for up to 1 hour 40!?! Well done mate.

2021 Winner
Now on to the champions of 2021. Like 2020 we didn't have a full year to work with due to lockdowns, however, we had a good innings to get a few names up on the leader board. Here are your champions:

- Champion of 2021 is John Macdonald with 96 points
- Second place goes to Nathan Lammonby with 83 points
- Third place goes to Martyn Lee with 75 points

To see all off past results head to the Elemental Fitness Challenge page now and see where you got to.
As for 2022, January will get us started with a core focused challenge to work on those tums after a few tins of roses and celebrations. Head over to January leader board now to see the challenge
We have an exciting offer for the ladies this year, with a full Gym Starter Pack with a years-worth of content to get you started at the gym!
With 172 workout sessions including female fat loss, booty builders and abs routines you can't go wrong with this one, you also have access to our app and its chat function to get assistance from all the Team at EF, partner this with our new Gym Access membership and you'll have everything you need to keep you going throughout 2022!
And it's all there for less than £100.00! to learn more about this fantastic offer and get started head over to our storefront now to purchase.

We would also like to make clear that even though this is tailored towards the females with workout routines that many of our female clientele ask for it is still a awesome routine for anyone – and with our app functionality to amend routines and crate your own nothing can stop you from saving on cost not content.
Offer last for limited time only 01.01.22 – 14.01.22
A shout out to client Paul Taylor last month. Stepping up training to 3 times a week and making impressive changes on the way. His personal trainer, James, says Paul has a keen eye for detail and progressing well on form and technique – something we all know James is very enthusiastic for.
Paul suffers with a frozen shoulder, reducing his range of motion and causing difficulty and pain. He believed that this wouldn't be any better and could worse over the years, until he started training at Elemental Fitness. Since starting in July 2021 his mobility has improved vastly and is only getter better each session.
His commitment to training and making a difference in his life has required lots of intrinsic motivation and James is eager to see how he takes 2022 in his stride.
We wanted to shout-out to a name not many would hear about in these newsletters or within the gym but is well deserved for the contributions she has made.
For those that didn't know Leanne Kenyon runs Nail It, a part of Elemental Fitness that deals with beauty, hair, nails anything you need to make yourself feel glamorous, and she has been killing it recently smashing targets and being a solid earner for Elemental Fitness, so a well done to Leanne for your hard work!
Did you also know that if you are a members of EKA of EF you get a little discount – Go and treat yo' self with a manicure or perhaps go for a trim (we're looking at you James) – to know more about Leanne's venture go check out her page and get booked in.
We figured everyone will be wanting to get in on the gym action and start 2022 like they tried to start every other year. Past years we have noticed those that get a gym membership at (insert generic gym chain name here) last up until around March before coming though our doors and asking for that personal touch and assistance – also not to diss anyone that sticks it out at the Globogyms, we hope you smash it.
We are just here for those that need us and to help you with those savings we thought upping the 10% discount we already have on the block sessions to 30% - because why not!

Visit our storefront to see the offer.

Offer last for a limited time only 01.01.22 – 14.01.22
Look back at all of 2021's blogs and learn about how we tackled covid, introduced new team members and collaborated with other business. Learn more from Dale and his expansive knowledge on martial arts.
And if you feel something is missing and want to have your own say then let us know. If you have a penchant for writing or just want to let your voice be heard on any health and fitness subjects then email [email protected] with your own blogs to be featured on our websites.