Step outside your comfort zone with Danielle
Meet our personal trainer Danielle
By: Elemental Fitness Ltd elementalfitness, personaltrainersleeds, personaltrainingleeds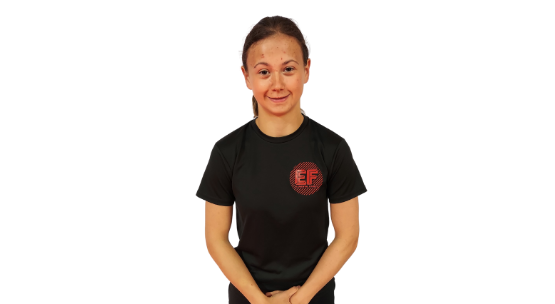 What made you become a Personal Trainer?
I've always had a passion for health and fitness so decided to start a course in fitness instructing in 2019. I enjoyed it so much I committed to a level 3 in personal training immediately afterwards which I have recently completed

I am always looking to help others and I feel the role of a personal trainer allows me to fulfil this desire whilst challenging me professionally. As a personal trainer, I am looking forwards to passing on my knowledge and guiding clients through a personalised physical fitness program.
I always keep my knowledge up to date and for the past three years I have experience of losing weight through changing my diet, kickboxing training and weight lifting. In my personal time I would look at maintaining a healthy and well-balanced lifestyle. I found improving your health through natural means such as exercise and nutrition would help me overcome barriers, build self esteem and self-confidence. I know first-hand that by keeping fit and healthy it can change your life for the better, if I can perform a job where I help others reach similar goals then this would be very fulfilling.

What qualifications/experience do you have?
To date, I am qualified in Active IQ Level 2 Fitness Instructing (GYM), First4Sport Level 3 Diploma in Fitness Instructing and Personal Training, HEARTSTART UK Emergency life support, and a YMCA Level 3 Diploma Exercise Referral
Most of my experience comes from cardio and strength training. In 2015 I completed the Cancer Research Uk Race for Life and in 2019 I completed a Total Warrior 12K. I completed one year of Kickboxing which I plan to continue when classes reopen so I can include this into my personal training sessions.
Whilst at college I completed work experience in a gym setting where I was given an opportunity to continue voluntary work for two and a half months. Whilst there I observed Instructors, instructed warm-ups, main exercises, cooldowns and after the sessions, I helped teach some clients. Also, I completed work experience at Leeds City College Park Lane Gym for one month. Here I ran gym introductions, taught fitness classes, and set weekly challenges for some of the students to complete.
I have trained as an exercise referral coach to improve my knowledge when working with clients who have medical conditions such as hypertension, hypercholesterolaemia, asthma, obesity, diabetes type 1 & 2, osteoarthritis, rheumatoid arthritis, chronic obstructive pulmonary disease (COPD), osteoporosis, depression, stress, anxiety, simple mechanical back pain and joint replacements.
I have a passion for fitness and weight training. I like to run or cycle several times per week to improve my lung capacity, increase confidence and self-esteem. I practice resistance training regularly to build strength and definition in my arms, abs, and legs. I stay motivated by building varied work out programs, set weekly and monthly targets/challenges helping to increase my chances of success. Over the last 3 years I have competed in charity runs such as race for life and total warrior. I believe these experiences have helped me become a better personal trainer.

How do you assess a new client?
I think it is important that I get to know more about the client to build a positive relationship helping us to understand each other better. I believe this helps a lot when working closely together and increases the chances of success through building trust and increasing motivation.
Depending on how specific a client is with their goals if given the freedom to do, I like to assess new clients by setting them specific fitness challenges, based on their performance I can then evaluate what their strengths and weaknesses are and provide the client with advice on how to improve these areas. With this information, we can begin to formulate a program.

In addition I like to put plenty of emphasis on what exercise likes and dislikes a client may have, what you would consider as a challenge and what you would want personally from a personal trainer to establish the type of approach you prefer such as style of encouragement and ad hoc challenges to keep your training varied.

For further information on what's included in the Elemental Fitness induction, please visit here
Do you create a meal plan?
I have experience of preparing my own diet plans and happy to offer advice during our sessions to aid with making better food choices. However for more specific needs Elemental Fitness has a more detailed approach here.
How do you track a fitness goal?
I like to use before and after photos and keep a photo diary. It provides you with visual evident that your training is making a difference increasing intrinsic motivation.
Alongside this Elemental Fitness has a thorough induction process, once your desired goals have been established an appropriate fitness test will be matched to you and repeated every 6 weeks on average to monitor improvements in performance. For more information about the induction process please click here.

When seeing changes in your body shape through the use of a photo diary and improvements in your fitness through performance your self esteem and self confidence will improve. This will stimulate motivate and increase

With increased motivation your self-esteem and self-confidence will gradually improve resulting in you exercising more often on your own.

What is your preferred style of encouragement?
I consider myself to be very patient and quick thinking. When I have clients struggling to perform a certain exercise I will observe and correct when needed. If the client continues to struggle I will step in and change the exercise to be better suited to their needs, this could be a less challenging version of a press-up, incorporating resistance bands for pull-ups to changing the exercises entirely. All this said I do like to challenge my clients as this is the best way to get results, so on the other hand, if an exercise isn't challenging enough, I will step in and increase the intensity without hesitation.
I like to get involved with my clients when they are training, for example through demonstrations, or if a client is happy to, I'll participate when safe to do so…from experience some clients find this very encouraging.
I am very enthusiastic when it comes to exercise, I do like to keep in touch with clients away from the gym. Even if this is an email before their first session to touch base, the odd text to remind them of their training schedule, or friendly chit-chat to boost morale.
I am quite reflective, and during a monthly or 6 weekly review I will always use this as an opportunity to see how the client is feeling taking into consideration any achievements and/or setbacks (if any!)
What is your favourite exercise?
Personally, I enjoy using free weights, more specifically the bench press. I like this because it activates a range of muscle groups, builds strength, improves posture and bone density.
What I like to do away from the gym
When I'm not at the gym I like to set myself fitness related challenges on a weekly or monthly basis. I find this helps to keep me motivated by highlighting personal strengths and weaknesses, building self confidence and self esteem. An examples of this was recently I completed a 50kg flat barbell bench press…3 weeks prior I was lifting 40Kg for 2-3 reps and now I can do 14 reps with 50kg! This felt like a great accomplishment.
Asides from I enjoy watching documentaries like The Irwins, movies, walking my dogs, listening to 90's music and playing Nintendo video games.