Say hello to our new personal trainer James Hutchinson - plus an exclusive offer!
Say hello to our new personal trainer James Hutchinson - plus an exclusive offer!
By: Elemental Fitness offer, PT, fitness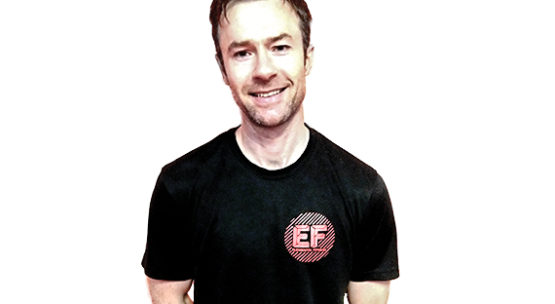 CHECK OUT OUR SPECIAL OFFER AT THE BOTTOM OF THIS ARTICLE! NOT TO BE MISSED.
What made you become a PT?
I am very passionate about sport, fitness and health. From a very young age I joined a boxing club which really sparked my interest in competitive sport but also taught me some life lessons and the importance of discipline, teamwork and having a good work ethic. I am by nature a very competitive person and this has worked in my favour in all areas of my life. I am always wanting to better myself personally and professionally and like to inspire people to do the same.
After leaving school in 1995 I went from job to job not really getting anywhere or progressing. I saw a lack of opportunity in my area and I didn't feel like I had the guidance. I thought there had to be a better way. I decided to study and work hard to get to where I want to be. After completing a three-year degree at university and teaching in schools I completed a Level 2 Fitness Instructing qualification. I expanded my knowledge and skill set and gained a Level 3 Coaching Strength and Conditioning for Sport qualification and a Level 3 Personal Trainer qualification. I then gained experience working in a gym helping people to reach their goals. I knew that I wanted to be a coach working in a fitness and competitive sport related environment and that personal training was the perfect career for me. I pursued this career path a little later in life but my journey proves it is never too late to follow your dream.
I have since worked with all age groups helping them improve their fitness levels and reach their goals. This includes working as a Sports Coach in Primary Schools. I am now a Personal Trainer at Elemental Fitness and I am very excited to be a part of the team helping people to reach their fitness objectives.
What's your fitness speciality?
I specialise in strength and conditioning, plyometrics, speed play and personal training. I help people to improve their power (speed-strength), balance, core and overall fitness levels through a structured exercise plan that caters to the individual's needs. I can offer sports-specific training methods which are useful for anyone who is wanting to improve their technique in their chosen sport.
What qualifications do you have?
I have a Level 2 Fitness Instructing qualification, a Level 3 Personal Trainer qualification and a Level 3 Coaching Strength and Conditioning for Sport qualification.
How do you assess new clients?
There are many ways to assess a client before devising a fitness programme. I like to get to know a client first, build a rapport and find out what they are aiming to achieve and their current lifestyle. And if there are any barriers to achieving their fitness goal i.e. family, work commitments. We can then work around this.
It is very important to establish a clear picture of a client's base level of fitness and at what level a client is currently at in their fitness journey. Taking body measurements and assessing cardiovascular health is very useful in order to measure future progress. This includes measuring blood pressure, weight, biceps, chest, waist, quadriceps, body mass index, basal metabolic rate and strength amongst others. Once we establish these measurements and know the client's fitness level, I can then develop a programme to suit their needs. If the client agrees, after several sessions/weeks I would then repeat these assessments to measure a client's progress.
Do you create meal plans?
As a personal trainer I can offer advice on what foods to eat and what to avoid and help devise a meal plan. It is very important to incorporate a healthy and balanced diet alongside training to successfully achieve a fitness objective. At Elemental Fitness there are a number of trainers who can help with diet and nutrition, or alternatively if special requirements are needed then we can refer the client onto our nutrition coach, Kerry.
How do you track fitness goals?
I would take regular body measurements and assess fitness levels over time and compare to previous figures. Body measurements are usually taken every 6-8 weeks to measure progress and give constructive feedback. This can give encouragement and motivation to a client when they can see results. We can also do fitness tests over time, for example a press-up test at session one then another press-up test at session five to assess client technique and what progress, if any, a client has made. At Elemental Fitness there are monthly fitness challenges which go on a leader board. This encourages competitiveness in clients.
What's your preferred style of encouragement?
I like to push clients to go beyond their expectations and I do this through positivity, patience, motivation and praise. When a client can see they are making progress this gives them the extra motivation to keep up their training and hard work. With my extra support while they are training it will encourage them to push even harder.
Favourite Exercises?
I enjoy high intensity upper-body exercises. Exercises such as the Arnold Shoulder Press with dumbbells and Eccentric/Concentric Curls with a curl bar really help to build strength and muscle mass. This is a slow and intense method of training but is effective. I also enjoy doing core, cardio and flexibility training.
What I like to do away from the gym?
I like to play sport and play badminton and squash. I am keen on kickboxing and am constantly wanting to improve my ability. I am a big music and film fan and like to watch live music when I get free time.
SPECIAL OFFER!
Quote 'ELEMENTALJ19' for a MASSIVE 50% off when you block book 10 sessions with James. That's £145 for 10 sessions. £14.50 per session! Want to train with a friend? No probs! 50% off of that too! £175! That's £87.50 each for 10 sessions. Are we crazy? Maybe...
Offer valid until 31/08/2019